Own visit
During the summer of 2017, in collaboration with the city of Vaxholm and the Fortifications Agency, we installed a number of signs in and around the opencast mine with useful information about the history of the mine. You can therefore advantageously hike here on your own.
You can of course also book your own guide, see below.
In summer, some general guided tours are organized which are then advertised here.
Group tours
Book your own guided tour. The tour is held outdoors and lasts about an hour. Price SEK 800 + SEK 60/pers. You also have the opportunity to enter the underground facility from the days of the Cold War. The show then takes 1.5 hours, and the price is then SEK 1,200 + SEK 80/person.
For school tours, prices can be reduced.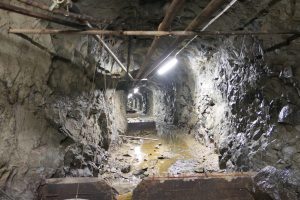 Our knowledgeable guides are booked by e-mail to the following address.
How to get here
The open pit is located on Resarö's eastern headland in Vaxholm municipality (1). There are three ways to get here:
With Waxholmsbolaget ferry service to Ytterby jetty (2), then walk 200 m to Ytterbyvägen 65. During the winter, however, traffic on the jetty is sparse.
By SL bus to stop Ytterby (3). Then walk about 1 km along Ytterbyvägen (about 15 minutes).
By car to Ytterbyvägen 65. Please note that parking options are very limited.
Map